Many of the programs of The Growing Abundance Project would not be possible without the amazing teams of volunteers and supporters that make it all happen. Our community is full of passionate people will skills, experience and knowledge to share and we delight in providing opportunities for people to share those skills and knowledge with each other and with the project.
Volunteer Harvest Team Leader | Volunteer Positions
Join our Harvest team and be part of  supporting the Harvest Program for 2018/19 season. Team leading involves pairing up with another team leader to coordinate and lead community fruit harvests 3 times a season (2-3 hours each, Feb – May). Over winter, we prune the trees that have been part of the Harvest. If you also have pruning skills or would like to learn more about fruit tree care and pruning, you can get involved in this aspect of the program too. In exchange for your efforts you will get free training in how to lead a harvest, free fruit from the harvest, first aid training (paid for) and access to harvest and fruit tree care training through our partnership with Mt Alexander Fruit Gardens. Plus you will be supporting the waste reduction of approximately 5 tonnes of fruit in our community, feeding the children of our community and supporting people in need. You will be required to have a Police Check.
To learn more contact grow@growingabundance.org.au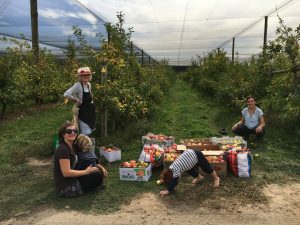 Other ways to be involved