The Castlemaine seed-lending library is located in the Castlemaine public book library.
Dayna Morrissey has been the voluntary co-ordinator of the Seed Library almost since it started in October 2016. In that time the Seed Library has grown and developed and provides community access to free vegetable, herb and flower seeds donated by local gardeners. In its first year the Seed Library lent out more than 1,000 seed packets to over 250 local borrowers.
Dayna was instrumental in attracting a team of dedicated volunteers who meet monthly for a working bee to repackage seeds provided by local gardeners. We are very fortunate to have had Dayna's creative skills and organisational capacity to develop and keep systems operating smoothly for borrowers and for volunteers. Dayna is moving on to other commitments, but planning to stay involved with the Seed Library in a smaller way. Thank you Dayna for your inspiration, innovations and passion in guiding and co-ordinating this community initiative.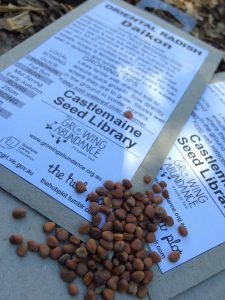 We are now looking for more community members to be involved to keep the Seed Library moving forward in a streamlined, shared and sustainable way. Volunteers are needed to help with:
Planning and overseeing monthly working bees and volunteers
Organising and preparing seeds and packets according to donations and local seasonal planting guides
Organising, managing and engaging volunteers for research, graphic design, ordering supplies and labeling
If you're interested in gardening, have a passion for supporting local food and sharing economies, please get in touch with Dayna at seedlibrary@growingabundance.org.au
The Seed Library borrowing cycle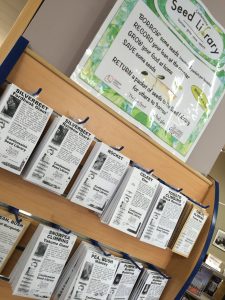 Borrowers check out the seeds, then
Grow the seeds in their garden
Use the crop to provide food for their family
Allow some fruit to mature (to produce viable seed)
Save and dry the seeds
Return the seeds to the library to be repackaged
The cycle continues…
A team of dedicated volunteers comes together each month to repackage seeds and include lots of tips for growing, saving and storing seeds. We don't seal our packets so they can be returned and reused next season. This resource promotes health and wellbeing, offering the community skills and tools to grow their own food while promoting local seed resilience.