GreenGAGE is an Enterprise that provides Castlemaine and surrounds with access to local services, products and skills that support sustainable food production in our gardens and on properties.
GreenGAGE currently offers a Pruning Service, Wicking Bed builds and we have a range of products available on our shop page.
Now is prime time for building the health of your soil in preparation for your winter crops. We have compost, cow manure, worm tea fertilizer and biochar available in our range of soil amendments. Be aware that Biochar in its raw form will suck in nutrients from your soil so it needs to be charged and inoculated (soaked in a nutrient and microbial rich blend that could consist of chook manure, worm tea, compost tea) so that it can provide microbes and nutrients to your soil. If you need a recipe for charging and inoculating biochar, email us on grow@growingabundance.org.au
Now is definitely the time for Brassica seedlings to go into your patch and for more local advice on good times to plant what we have created a calendar – Grow What When in Castlemaine. A good resource for your garden that will also look great on your wall!
Any profits that we generate from GreenGAGE will go towards ensuring the longevity of our much loved Harvest Program. For more info about GreenGAGE email grow@growingabundance.org.au
Pruning service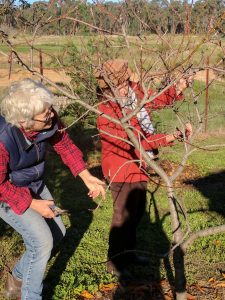 While the beautiful warm weather of autumn is still here, if you haven't already, get your SUMMER PRUNING of apricots and cherries finished to minimise the chance of spreading fungal disease to your trees. If you need help with this one of our pruning team can come and help you. Email grow@growingabundance.org.au for more information or click through to the pruning page on our website.
Summer pruning workshop
If you are keen to learn the skills of summer pruning and get to the job yourself, Mt Alexander Fruit Gardens are offering a Summer Pruning workshop on 14th April from 3:00 – 5:30pm. Click here to make a booking and head to their website to sign up for weekly fruit tips.
Casual employment opportunity
If you are an experienced pruner, have fruit tree knowledge and enjoy passing on your skills, this could be the job for you! We are looking for people to join our Winter Pruning Team where many of our customers opt to learn and prune alongside you. If this sounds like something you are interested in, get in touch by emailing grow@growingabundance.org.au